The week of the international calligraphy conference, the last two days I had a class with Cherryl Moote,
based on her book
Sleight of Binding
. We made accordion book models, flexagons, jacob's ladders, and these gallery books -- actually three days' worth of books, that we tried to get into two days. Cherryl has a great website with lots of photos. Her packed instruction books have the clearest line drawings I have seen for actually making these complicated sort of structures, although they don't have the eye-candy appeal of the glossy photo books.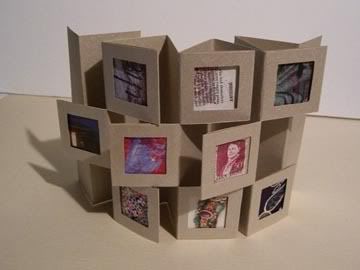 I call this "My World Is Full of a Number of Things" because it includes painting, lettering, origami paper, found papers, paste paper, stamping, and postage.
She also gave one of most inspirational of evening slide lectures, on the subject of finding your own voice. What a great teacher!